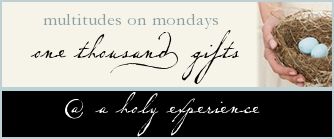 33. Three Day Weekend ~ I can't even tell you how thankful I am when I have 3 days in a row off.
34. Soup ~ I love soup from fall through winter --Chili, Beef Stew, Pasta Fagioli, Zuppa Toscana, Chicken 'n Noodle
35. Dinner with friends ~ It was our first time eating at Saul Good and it was so yummy. We love going on double dates with other couples. We had a great time!
36. Adam and Julia's infamous Green Smoothie ~ We've started trying to eat healthier and exercise more. The smoothie is amazing! It has 2 servings of vegetables and 3 servings of fruit. It's a great way to start the day.
37. My Mom ~ She just had a birthday. So thankful for her. Miss her.
38. Sheri ~ She also just had a birthday. So thankful for her. Miss her, too.
39. Amanda ~ She also had a birthday. So thankful for her and happy I don't have to miss her.
40. Favorite books ~ I love reading and re-reading and re-reading my favorite books. Some of my favorites are: The Purpose Driven Life (read it in college and still love it), Crazy Love, When Calls the Heart (author Janette Oke- you've probably not heard of her, but the whole series always makes me feel good)
41. Having some free time ~ Last year we were too busy! From January to August we had a lot going on, but from August through December we had something every day. Thankfully January and February have been "down" months for us. We've purposely decreased our schedule to take time to do nothing.
42. Thunderstorms ~ We had a nice little thunderstorm yesterday. It was great! I love watching lightning and listening to thunder. I think Spring is right around the corner.